Winchester's Nightmare is available in hardback: a 386 laptop computer, with power adapter, running the interactive text. Ten numbered hardbacks have been manufactured, and some are still available. You can purchase one for $300. That price includes domestic (US) shipping. Email me at nickm.com if you wish to purchase a hardback. My email address is my first name followed by my last initial.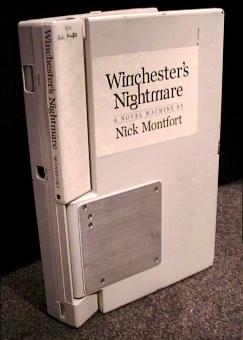 "Softback" Step 1 of 2: Download the Story File
Download winchest.z8, the story file. Right-click (or ctrl-click with a one-button Mac mouse) and choose the appropriate option to save the linked file.
"Softback" Step 2 of 2: Install and Run an Interpreter
Just as you need a Flash player to play Flash files and a Web browser to browse Web pages, you need an interpreter (specifically, a "Z-Machine" interpreter) to run Winchester's Nightmare. More recent versions of these interpreters are probably available by now, but you can download a popular interpreter for any of several platforms using the following links:
After you have installed an interpreter, simply drag winchest.z8 onto it, or run the interpreter and open winchest.z8 in it.
Editions & Instructions
The softback edition avaiable here contains the complete text of the hardback edition.
A description of Winchester's Nightmare is also here online, along with an instruction sheet that has information both for text-adventure veterans and those new to the interface.
Winchester's Nightmare description.
Winchester's Nightmare instruction sheet.
Release Notes
Release 5 of 31 Jan 2002 contains two significant changes: an option to allow abbreviated commands ("abbr") and an adaptive hint system accessed by typing "hint". Details are on the instruction sheet.
I made release 3 available as an executable for Windows (zip, exe) and Mac System 9. The current release is not available in this format. Creating stand-alone executables out of z-code is an elaborate and crufty process, and the result limits the player to using a single bound-in interpreter. Nevertheless, I'll keep these obsolete files in place.
Online Preview: Look at Winchester's Nightmare on the Web
A Web edition of Winchester's Nightmare is available for online interaction, to offer a quick idea of what this interactive fiction is like. While this Web edition is complete, downloading the story file and an interpreter is the only real way to engage with Winchester's Nightmare; SAVE, RESTORE, and TRANSCRIPT are disabled in the Web interpreter.